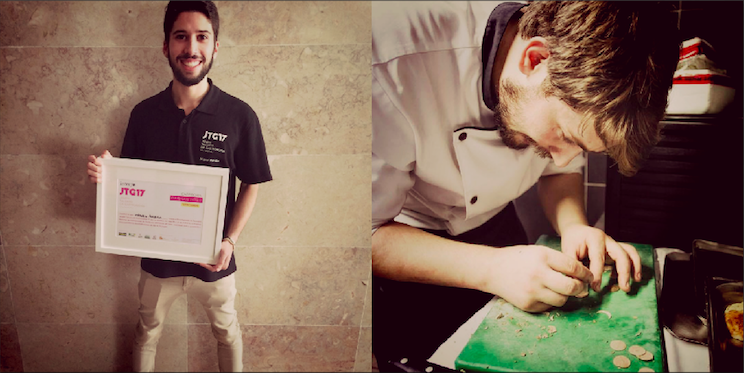 100 Maneiras celebrates National Gastronomy
Miguel Pereira, bartender at Bistro 100 Maneiras, was the winner of the Young Talent of Gastronomy award, an annual competition that seeks to bring together the most promising young people in the area, in the Barman INTER category. The awards ceremony took place yesterday, October 25, at the National Gastronomy Festival, in Santarém, which was also marked by the celebrations of the National Day of Gastronomy Student.
In addition to Miguel Pereira, 100 Maneiras was represented by Vítor Adão, executive chef of 100 Maneiras, who presented a cooking demonstration using traditional ingredients such as cacholeira sausage, pork jowl and pig's trotter jus, within the framework of the discussion "What Gastronomy for the future of Portugal? "
For this 37th edition of the National Gastronomy Festival, which has for goal "the defense of gastronomy as National Heritage", the theme chosen was "The Bread of Every Day", focusing on cereals and new uses of raw materials in the production of bread, as well as in the recovery of traditional formulas such as "mother dough". As so, there were initiatives like the "Let the Bread Talk" Seminar, held on 19 October, with the participation of national experts – Ana Rocha (Pão da Mó), Diogo Amorim (Gleba), Paulo Santos (Forno de Beco) and Mário Rolando (Pão Bão) – and an Educational Bakery, where bread is made several times a day, allowing visitors to follow the whole process and even make their own bread, by joining the available workshops.
The Festival runs until October 29, at Casa do Campino, and has a daily cost of 2 euros.