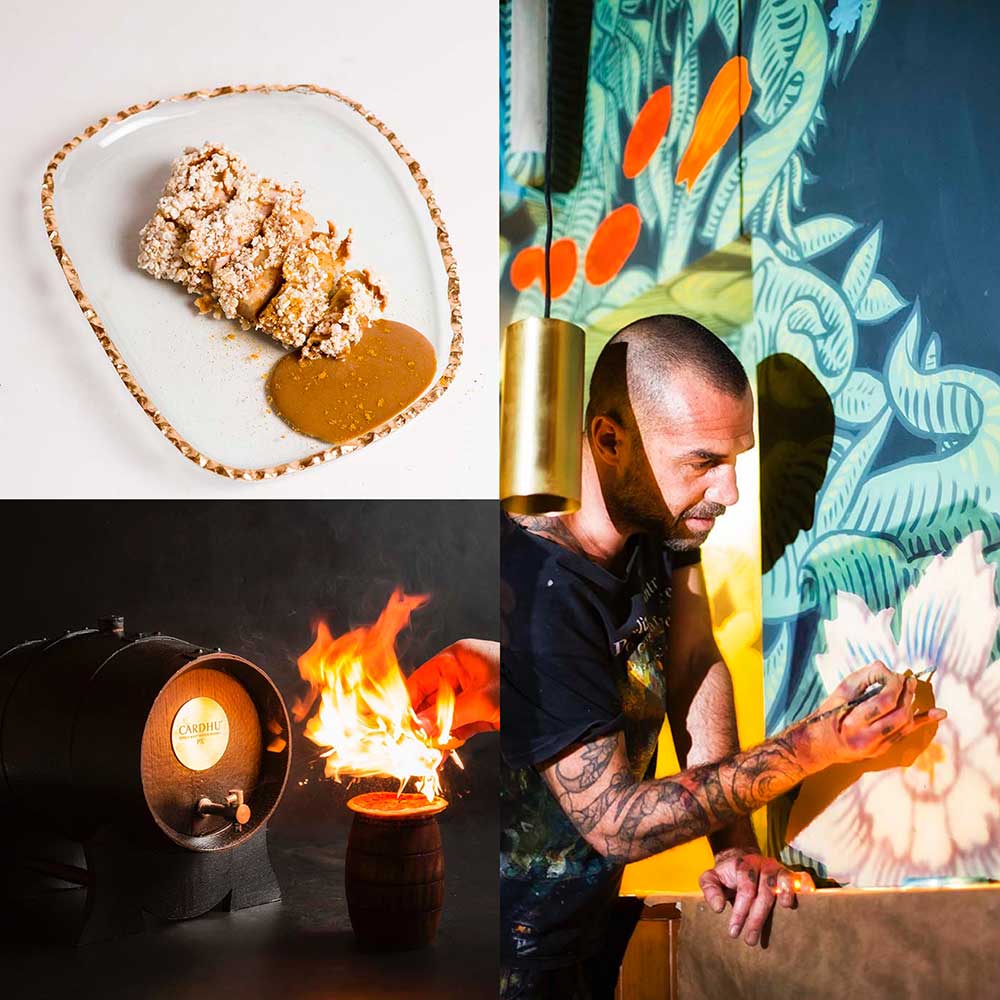 Good news at Bistro
We are worse than children… we didn't wait for the 24th to open the presents. And we started December 2018 with new menus in the Restaurant and Bistro; a new bar for the right alchemy; new cocktails to drink every day from noon to 02am; a mouthful of new works of art to admire; a redecorated Room where you want to do anything but sleep; a new drink signed by chef Ljubomir Stanisic.
The 100 Maneiras family celebrates at large, with Portuguese and Yugoslavian accent, with arms wide open to the whole world. We celebrate (to) life, everyday.
New menus
At Restaurant 100 Maneiras, in Bairro Alto, this will probably be the last tasting menu before moving to a new address. A goodbye that we want to celebrate properly, with seasonal products joining the spices, herbs and strong flavors which define Ljubomir's and 100 Maneira's cooking style. From this, resulted creations like "Feel the beet!" (Beetroot with ras el hanout and basil), "Scarlet Johansson" (stuffed squid with red rice, tahini and chorizo), or "We have a dill" (Jerusalem artichoke, hazelnuts and dill).
At Bistro 100 Maneiras, without surprises and keeping what has been the identity of this restaurant in Chiado, the menu receives new proposals also inspired by the ingredients of the season, with references coming a bit from everywhere in the world, but specially from Asia – evidencing the journey of 100 Maneiras' executive chef, Manuel Maldonado, who has an experience in Singapore in his resume. "Bun, baby bun!" (Suckling pig buns), "East Side Story" (Breaded chicken with fried pork skin in sweet and sour sauce), "From the inside" (Duck gizzards satay) and "Bacalhau de corrida" (Cod ramen) are some examples
of this portuguese-oriental journey, where there is still space for the "made in Balkans" specialties, as the mandatory "Yugoslav Burek, spinach and cheese", "Cevapi" (Somun with meat rolls) or a reinvention of the dessert "Tufahija", now in a 2.0 version
(Caramelized apple, vanilla ice cream and walnut crisp).
And because the holiday season asks for great celebrations, both 100 Maneiras and Bistro 100 Maneiras will be open in the evenings of 24th and 31st December. At the restaurant, on both evenings, the Autumn-Winter tasting menu will be served exclusively with the wine pairing – as everyone knows, if it ain't broke, don't fix it (much). At Bistro, our team created two specials menus, paired with special wines, for two uniques nights. In the 24th, "All We Want for Christmas" combines tradition with generous irreverence, with dishes like " Long live the cod" (Cod cakes with aioli), "Lamb Rover" (Lamb leg, potato and apple gratin, lamb jus and sautéed chards) and "French kiss" (French toast with Madeira ice cream and walnut praline), having room for treats like "Take me Out" – a homemade King-cake to take with you at the end of the night. "All about the Eve" is the
name of the menu for the last dinner of 2018, marked by luxury ingredients such as oysters, lobster, black truffle, foie gras, turbot and Wagyu meat – because if is a celebration, let's celebrate with everything we deserve.
New bar and new cocktails
It was an idea desired for years. A marriage that began with a flirt between Schweppes and Bistro 100 Maneiras and which gave birth to the newest "son" of this house: the new bar at Bistro 100 Maneiras. For delivering this baby, we chose Filipe Pinto Soares, an artist with a long history of collaboration with 100 Maneiras– author of the Milagro windows, outside the restaurant,
and co-author of the Hendrick's Room, upstairs, just to name two of his works. The aim was to give a new life and improve the functionality of the bar that, more than an extension of the restaurant, is a space with its own worth, arguments and awards – like the national Coaster 2017 awards for the Best Bar in a Restaurant. "Since the work space was very short, my idea was to take advantage of the small space between the bar and the showcases and make a piece with references of Schweppes history, in harmony with the 100 Maneiras aesthetics", reveals the author-artist. The laboratory glasses, which refers to the alchemy of the carbonated water creation, and the clock parts, that recall the watchmaker past of Johann Schweppes, founder the company,
are combined with the use of mirrors that provide an optical illusion of depth – similarly to what was done in the Hendrick's Room. And if the three wise men welcomed the child with gifts, at the Bistro, the bartenders team decided to meet their new "beloved child" with an unprecedented cocktails menu. Built from stratch from memories of the elements behind the counter, the new menu gathers more than two dozens of creations that appeal to every sense, carrying, in each glass, a story to be read, heard, smelled, drunk and shared. Drop by drop.
New decoration
The title is unofficial, but if there was a name to chose for "resident artist" it would be Mário Belém. It was him who, in 2014 and with more than seven thousand wooden forks, created Bistro's patron saint, "Our Lady of Gluttony"; who, in 2015, glued hundreds of books in the walls and ceilings and, above them, created an art installation which spreads throughout the ground floor of the restaurant, with parts like "Arrebenta Coração"; and who in, 2016, along with Filipe Pinto Soares, designed the Hendrick's Room, a private room inspired by the botanicals of the Gin, that lead us to a parallel universe. For all these
reasons and more (and there are several, including bottle labels and illustrated books and menus), it couldn't be other than Mário Belém to lead a mini revolution at the Bistro, with the renovation of the decoration inside – and an update outside.
In Bistro's Room, created in 2014 by the architects from HA+JE, Mário decided to turn the "Room Upside-down". The intervention is a "head over heels" reproduction of a William Morris image, one of his heroes and founder of the Arts &Crafts movement. The feeling is like entering in an inverted garden, where the huge colorful flowers and lamps are up side down – almost like Alice after eating the magical mushroom. Upstairs, the challenge was to grow the historical room of this space which was once home to Bachus. How? Applying 100 mirrors of different sizes, formats and shapes along the walls and ceiling, promising to bring continuity to the small great pleasures of life. To the facade, comes also a new window signed by Mário Belém, sponsored by Monkey Shoulder whisky, with the brand's imaginary inspiring a Great Escape.
New drink signed by Ljubomir Stanisic
After creating his first wine, more than a decade ago, Ljubo didn't resist to the miracle of multiplication. Since then, he created dozens of references, one beer, one "aguardente". Now the most- Portuguese-Yugoslav-chef-ever launches his first Rum.
Refugees Rum is the name of the blend signed by Ljubomir Stanisic, aged for two years in the warehouses of Licores Serrano, in Serra da Estrela. Made from sugar cane – originally from Syria, in ancient Persia – it migrated along the Mediterranean Sea to the south of Spain, where it is distilled, and finally arrived in Portugal where it found refuge. After aging in barrels of French oak, where previously had passed whisky, Ginja liqueur and Douro wine, Refugees Rum was born. A rum with noble wood inside, with sweetness, elegance and subtlety. A rum with a very Portuguese soul – the same soul that led the Portuguese through these seas never before navigated … It is a soul that reflects the whole world. A world without borders, united by the universal language of discovery. Of hedonism. Of the pleasure of well-drinking. It is a story is told in bottles: 1454 of them, to be precise, all numbered and illustrated by Mário Belém, with images that take us to the Middle East. A story with a mission that particularly touches this son of Sarajevo: to support the refugees, to contribute to the possibility of a happier ending, as part of the value of sales reverts in favor of JRS – Jesuit Refugee Service, an institution that supports refugees in Portugal. With a retail value of around € 32, Refugees Rum is already available for purchase in the market and to taste, in the glass(es), at Bistro 100 Maneiras.