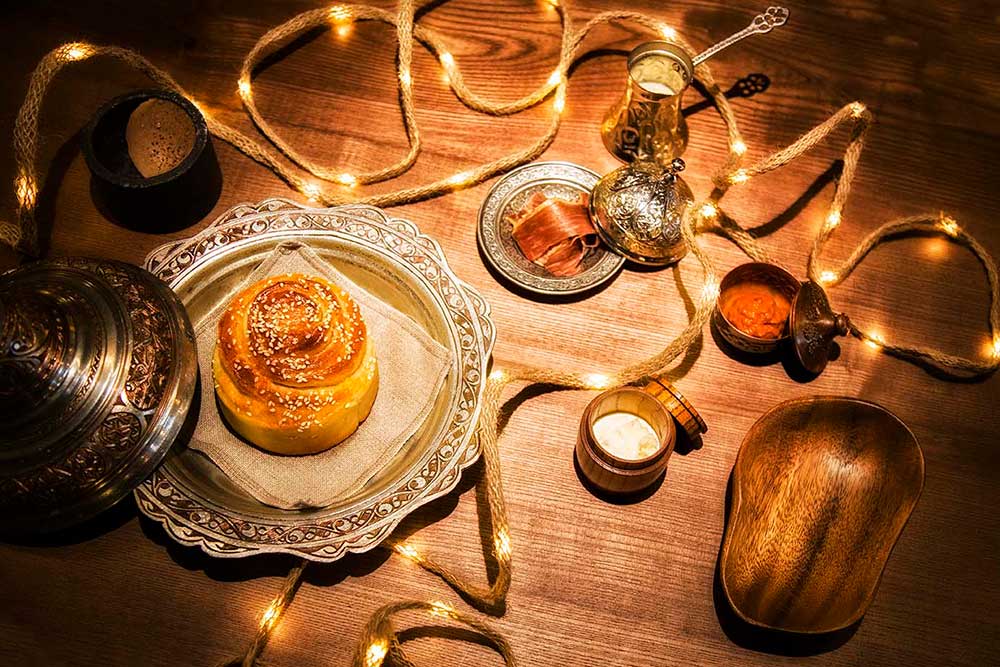 Holidays at 100
Openings, awards, distinctions, releases… All in all, it's the perfect excuse to make last night of the year a tribute to everything we achieved in 2019, with a great 100 Maneiras party. Times two.
At 100 Maneiras
It's from "The Story", the main tasting menu of 100 Maneiras, that arrive some of the 12 moments that, before midnight, parade through the restaurant's tables on December 31st. "Welcome to Bosnia", possibly Lisbon's most photographed couvert, opens up the party, with "flower" bread, ajvar, kajmak, pasteta, stelja and sea "butter" – a selection of Bosnian specialties, not so easy to pronounce but even harder to leave untouched.
Other iconic moments from the menu make an appearance, such as the "Sarajevo Cigar "(potato foam, smoked tea bread and čvarci "tobacco"), the "Mixed Salad" (anchovies, black truffle and parmesan), "The Last Supper" (cow's head, horseradish, marrow and somun bread) or even the surprising "Foie pour toi" (foie gras, Dr. Bayard mint, "Mais Vale Tarde do Que Nunca" late harvest jelly, yogurt and ras el hanout).
But if 2019 deserves the praise, the arrival of the new year is also the perfect occasion to bring new dishes to the tables. That's what happens with "The Pearl" (smoked European flat oyster and champagne beurre blanc), "Drive Me Nuts" (scarlet shrimp, chestnut cream, fennel and black truffle) or "The rum, the rum is on fire" (baba au Refugees Rum).
And because it is mostly in green that we write the end of this year, on the last night of 2019 will also be served the vegetarian menu "Echoes of 100", accompanied on this date exclusively by a handpicked wine selection (275 euros per person, wines included).
Victory, victory, here ends (this) history. (For now…)
At Bistro 100 Maneiras
If at 100 the party is scheduled for December 31st, at our oldest – but forever young – house, celebrations begin a week earlier. At Bistro 100 Maneiras, it is Christmas Eve that officially starts the 100 Maneiras holiday season. On December 24th, Ljubomir Stanisic, Manuel Maldonado, Eugeniu Musteata and the rest of the team are Bistro's Santas on duty, serving "A Christmas Carol": a menu that combines tradition and irreverence. For the first time, in addition to the main menu, will be also served a menu which, more than an adaptation, is designed from scratch to be 100% vegetarian: because Christmas is the season for unit and is united that we want to celebrate at these tables.
A week later, it is still filled with this spirit that we return to this house for another big party. "All about the Eve" is the title of menu designed to say goodbye to 2019. And the evening will be a delightful seduction game, winking at 2020. Just like in Christmas Eve, besides the main menu there will will also be a vegetarian menu available, no less sexy and full of flavor than the first. To enter 2020 with the right temperature. Because when it comes to cold, the weather is enough.