BÓSNIA
TO BE WILD!
Ljubomir Stanisic doesn't eat to live, he lives to eat. He is a cook, a chef, but much more than that… He is an eternal seeker. A sniffer. They say that those who seek will find. And Ljubo has been finding everything he's been searching for all his life. Does fortune favors the bold?… Perhaps… It certainly took boldness (and a few more things) to leave is country, Yugoslavia, at the age of 19, to leave his family and friends and step into the unknown, alone. But luck is also built – and, apparently, it takes a lot of work …
Ljubo was born in Sarajevo (the capital of Bosnia-Herzegovina) on June 8, 1978, but has lived in Portugal since 1997. In his resume he carries different victories in a life of some defeats and many struggles carved in his body – and in his soul.
Anyone who knows Ljubomir Stanisic knows that a croquette is not just a croquette. The chef of 100 Maneiras and Bistro 100 Maneiras, in Lisbon, manages to combine chaos and harmony and even delight those who swear not liking certain things, such as offal, for example
Mesa Marcada, July 2016
He lived the war in Bosnia when he was still a teenager, forced to carry arms instead of riding a bicycle or playing basketball, he had to defend old men and children when he was still a child himself. He found refuge in different parts of the former Yugoslavia until arriving at Belgrade – and until that trip that brought him to Portugal.
He wanted to get away from everything: from that culture of war, but especially from the lack of future. He found motives as he traveled the world. And it was the world that made him the cook – the person – he is today. The defeats, the wars, made him stronger. And the difficulties made him appreciate the "little" things in life. Like the potatoes his mother cooked every day, when she had nothing else to put on the table…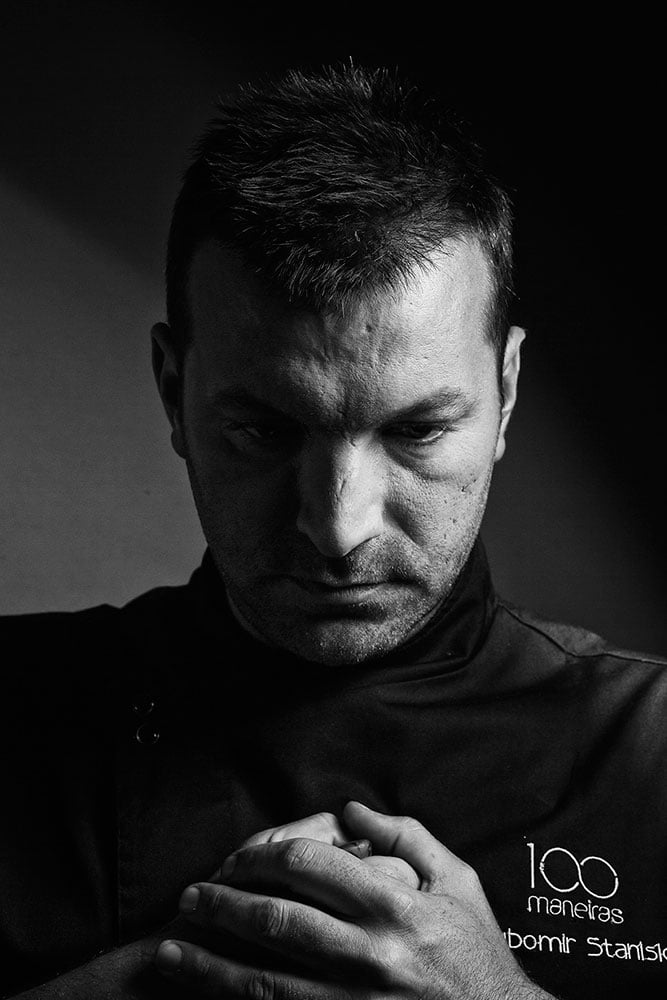 The controversial cook and television star is passionate about food, about life. It is not only what they taste like – food and life – but above all how they make him feel. Potatoes will always mean comfort, but also scarcity and creativity. It is not by chance that he admires the gastronomy of Alentejo, made exactly of "lack" – and of flavor without concessions. But it was almost by chance (was it?!) that he eventually chose the Alentejo – and the Grândola region – to start thinking about his old age. But about that, he will "tell" you later …
Ljubo opened his first restaurant in Cascais at the age of 26 and is now the head chef and owner of two restaurants in Lisbon. But he became a cook by necessity, while still in Belgrade, "emigrated" with his mother Rosa and his sister Natasa. At the age of 14 – and with the strength of the 20s – he got a job in a bakery. He worked at night and studied during the day. He didn't even like the smell of bread, but he had to support his family. He slept on the bus on his way to school, during classes… Today he realizes the importance of this experience – and of his contact with Bobe, his employer: with him, he learned the value (and hardship) of work.
For the food lovers, seeing a foreigner speaking our language like many of us can't, and spreading our story, our gastronomy and our country, is a reason for pride. It is a pleasure for those who, like me, see in the making of food, a way of sharing friendships.
Helena Sacadura Cabral, Delito de Opinião, September 2014
To escape the fines applied to those who didn't study, still in former Yugoslavia, Ljubo attended Chemistry of Food, Bakery and Fine Pastry and International Cuisine. After moving to Portugal, he joined the Chocolate Technology course in Valrhona (France), Italian Cuisine and Sea Cooking, Vacuum Cooking, Molecular Gastronomy… But for the cook (chef is a title that he doesn't care about), the most important "course" was experience. The work with chef Vítor Sobral, for example, who became his mentor and master. And Hugo Nascimento, his first colleague and friend, who became a brother for life.
He passed through restaurant Fortaleza do Guincho (1 Michelin star) before deciding to open his first place. The 100 Maneiras of Hotel Villa Albatroz, in Cascais, was the first of many. It was at this point that he published his first book, Cascais 100 Maneiras, in an author's edition, it was here that he became known to the gastronomic world for the first time, where he won the first prizes (such as the Medal of Entrepreneurial Merit and Development of Culture and Tourism 2007 awarded by the city of Cascais, Best restaurant of contemporary cuisine 2007 by Veja magazine). But here, too, he went bankrupt. It was the end of 2008…
After a period of doubts – and debts -, of having considered leaving for China or Angola, he ended up accepting the help of two friends (Fausto and Carla Lopes) and, in January 2009, he opened the restaurant at 35, Rua do Teixeira, in Bairro Alto, his salvation rope. He wanted to democratize the author's cuisine by offering a unique tasting menu at affordable prices, to share one of life's greatest pleasures with as many people as possible. The city – the world – tasted and enjoyed it. And Ljubo, restless, continued. Growing stronger.
(…) this award is destined, much more than to the rigorous and genious cook, to the complete man, an actor of our public life, who cooks, hosts, creates, writes, travels, tells, accumulates experiences including products, recipes, techniques and stories, experiments in the kitchen, but also helps in the wine harvest, makes wines, is an entrepeneur with failures and – luckily, much more – successes, a main character in the film of our lives.
Luís Antunes, Revista de Vinhos, February 2016
In the gastronomic world, it's not new to see a foreign chef discovering the ingredients and flavors of other lands. In Brazil, we have for example french Claude Toisgros and, why not claiming that, in Portugal, the Yugoslav Ljubomir Stanisic
Chef Magazine, Brasil, April 2012
Having said this, chef Ljubomir Stanisic is, without doubt, the most creative chef working in Lisbon (and maybe in Portugal).
Onde Vamos Jantar,  July 2014
On September 22, 2010, he proudly opened the doors of an historical place in the heart of Chiado. One of the oldest restaurants in the country, former home of Tavares Pobre and Bacchus, became the business card of a strong-minded "Portuguese-Yugoslav".
Bistro 100 Maneiras was born from the inspirations brought from Festival Lumière (Montreal / Canada), where Ljubo (along with other national chefs) represented Portugal, the guest country of that year. And it quickly became a reference in the city. Bistro is a reflection of Ljubo, of his persona. It is a consequence of his experiences, his travels, his researches… With notes from former Yugoslavia, where he was born and raised; touches of Portuguese traditions, where he be-came a man; and French influences, where he learned to eat. All seasoned with the his famous irreverence and impregnated with his passions: friends, wines and cocktails, art, music…
In 2011 he made his television debut as a jury in the first Masterchef Portugal, broadcast by RTP1. At the end of the same year, he made a great declaration of love for the country he adopted as home: he edited Papa Quilómetros – Uma caminhada pela gastronomia portuguesa, with Casa das Letras / Leya, his second book and the first written with his wife, Mónica Franco, distinguished with two world awards: one from the International Academy of Gastronomy and another from the Gourmand World Cookbook Awards. In Spring 2012, the adventures of the book jumped to the small screen, with the show Papa Quilómetros, broadcast by Fox International Channels – first in Portugal and then through-out Europe.
Ljubo was converted. From passionate he became an ambassador: of the flavors, products and producers, traditions and national landscapes. That trip through the country was over. Curiosity wasn't. Never. In 2013, with his family aboard a campervan, he embarked on the Papa Quilómetros Europe project, traveling through the old continent with awakened senses, focused on discovering the gastronomy of the countries included in the itinerary: Spain, France, Germany, Denmark, Sweden, The Czech Republic, Slovakia, Austria, Hungary, Serbia, Bosnia and Croatia. The trip was shared online, in weekly chronicles published in Expresso's magazine and, later that year, in the book Papa Quilómetros Europa – the second written in partnership with Mónica Franco and published by Casa das Letras.
In 2015 he packs his bags again and leaves in a short but prolific trip that develops into the work 100 Cocktails 100 Maneiras, thought with Nuno Faria and Mónica Franco (who also signs the texts). All across the country, Ljubomir Stanisic and the team from Bistro 100 Maneiras bar searched for products, producers and landscapes that inspired new cock-tails, more than a hundred of them, published by A Esfera dos Livros in an unprecedented work in Portugal, highlighting the connection between the kitchen and the cocktails. More than a book, it is a statement of intent, a rupture with prejudice: a trend that marks the identity of Ljubo and 100 Maneiras.
In these 20 years of cooking, Ljubomir has won some awards, such as the "Mais Chefe" award at the "Óscares do Alentejo", by Mais Alentejo magazine, due to his temporary work as a consulting chef at Sublime Comporta hotel in the Summer of 2017, but there was one that especially moved him: the David Lopes Ramos Gastronomy Award, awarded in 2016 by Revista de Vinhos. To remain forever associated with the name of a great figure in national gastronomy, a journalist and critic, already deceased, who Ljubo admired and who helped him grow as a cook, is, more than a privilege, a responsibility.
Still in 2016, and until July 2019, he took on a role that would change his way of thinking, acting, cooking… He became a gastronomic consultant for the first hotel of the prestigious Six Senses group in Europe (the Six Senses Douro Valley). If his connection to land, produce and producers has always been intense – first planted on the banks of the river Sava, on the border between Serbia and Bosnia, at Uncle Misho's house, where he learned how to fish and hunt, but especially to survive and respect the nature that nourishes us – that connection was imprinted in his kitchen, in his food forever. On the banks of another river, the Douro, he began exploring a way of cooking with direct connection to health, well-being, sustainability. Without ever compromising taste and pleasure – two of the motivations that make him live.
The audiences success of the first season of the Portuguese version of the show Kitchen Nightmares (Pesadelo na Cozinha), broadcast from March 2017 on TVI, put Ljubo in the mouths of the world, and for this work of "tuning" (or trying to…) 13 restaurants scattered throughout the country, registering historical records every week, he ended up being considered "Personality of the Year in Gastronomy 2017", by Revista de Vinhos.
At the same time, Bistro 100 Maneiras is distinguished with a prize that will always make him proud: world number 1 in the Monocle Restaurant Awards 2017 – and the following year, it wins an honorable third place. After seven years of existence, the distinction presented by the prestigious lifestyle magazine to his second restaurant is a proof. Ljubo (and his team) are on the right track. Now they can only stay in the same path. The award of Best Brand / Concept attributed by AHRESP, already in 2018, only underlined this certainty.
The years go by and Ljubo doesn't stop. Restless, impatient, insatiable and unsatisfied by nature, he is known to be demanding (but generous), hard (and affectionate too).
He creates family ties in his restaurants. He gathers friends – Nelson Santos and Nuno Faria – to form a society. He brings the family to help him: his mother Rosa cooked with him in the opening months of the first restaurant in Lisbon and moved to Portugal when he opened Bistro; his sister Natasa has arrived at 100 Maneiras and became responsible for the purchasing and management department of the 100 Maneiras group. His wife, Mónica Franco, is responsible for his and 100 Maneiras' image and communication, and with her he creates books, tv shows and concepts inside and outside the group.
An example of this is the book "Bistromania – No Bistro Como em Casa", published in September 2018 by Casa das Letras and signed by Ljubomir Stanisic and Mónica Franco (and distinguished, in September 2020, in The Autumn Harvest List of the Gourmand World Cookbook Awards). A book that is also a life story: it is about a restaurant, Bistro 100 Maneiras by Ljubomir Stanisic, but it's above all a personal piece that makes us feel at home. The chef's home made ours in a snap.
In early 2019, after almost four years of projects and construction, the result of the union of these heads is born: the new 100 Maneiras (1 Michelin star), at Rua of Teixeira, 39. A restaurant that is the natural evolution of nº35, on the same street (meanwhile closed for refurbishment) and that for 10 years marked the rebirth and rise of the chef. Opened on February 28, 2019, it is the result of years of research, a sign of maturity. The chef's maturity but also of the 100 Maneiras group.
Divided into 3 rooms (The Glass Room, The Dining Table and The Back Room), the space combines nature and cosmopolitanism, ruin and luxury. The offer includes three tasting menus: "The Story "(with 17 moments)," The Short Story "(shorter) and" Echoes of 100 ", 100% vegetarian. And even a cocktail bar for an "stirred" (and not shaked!) experience.
This restaurant is the result of many life stories, as many as those who fit inside 100 Maneiras, but, first of all, the story of Ljubomir Stanisic, the most-Portuguese-Yugoslav-chef-ever. 9 months after its opening, comes the first great distinction: the inclusion on the 50 Best Discovery list, compiled by the organization of The World's 50 Best.
Still in 2019, the third season of "Pesadelo na Cozinha" is announced, broadcasted between December 2019 and Februrary 2020. It is the return of Ljubo to the screen, while he travels to one of the places where he feels happier: the Azores. Here, he opens Líquen, where he pays tribute to the generosity of the land and the ocean, where the greatness of resources is praised with simplicity, where genuineness is not confused with false traditionalisms. A project designed first to build roots, and later to gain wings and move according to the chef's wishes, growing with him, in a pop-up format, allowing him to discover the best of the Azores.
In 2020, when the country stops due to the Covid-19 pandemic, Ljubo moves. In August, he launches his online store, a long-thought project, where he brings together all his signature products: knives, chef jackets, salt, beer, wines, spirits, books, tableware… In common, they have the love for flavor, for cooking, for sharing and, of course, the chef's name.
At the same time, Ljubomir signs a deal with SIC (tv channel), where he will be the host of the portuguese version of Hell's Kitchen (to be broadcasted from 2021).
In December 2020, the proof that fortune favours the bold: 100 Maneiras wins its first Michelin star. A reason to celebrate in a difficult year. And a few months later, in February 2021, a new award: the title of "Chef of the Year 2020", awarded to Ljubomir by Revista de Vinhos.
In March 2021, Ljubomir debuts Hell's Kitchen Portugal at SIC, with Hugo Nascimento, friend and chef of Naperon restaurant in Odeceixe, as well as Manuel Maldonado and Miguel Santos and several other elements (and former collaborators) of 100 Maneiras.
In November, he opened Carnal, a Mexican gastrobar, with Manuel Maldonado (executive chef), Luis Ortiz (head chef) and João Sancheira (head bartender) – hijos of 100.
It was also in November 2021, the national premiere of the documentary film "Ljubomir Stanišić – Heartbeat". In the 100-minute feature film, 10 years of shooting are condensed. A documentary about gastronomy and the chef, but also about a "refugee" who overcame the stigma of being an emigrant through the power of work. In the 2nd semester of 2022 the documentary made its debut on the international circuit of film festivals, in countries such as Turkey, Israel, Spain, Germany, USA and Mexico.
In July 2022, he returns to the small screen with the docuseries "Pela Estrada Fora" where, together with two great friends, Nuno Faria and Paulo Furtado (aka The Legendary Tigerman) travel around Portugal and show a new way of looking at the country, the places, the cuisine and the people.
Ljubo is the glue that keeps it all together. Able to move winds and tides to get wherever he wants to. Despite being a man without fears, he always listens to his heart, he is attentive to the signs. Like the one he was given by an old seer, handicapped and without legs, who people claimed to be holy, while he was still a refugee in Belgrade: she said Ljubo was going to live in a city in the middle of two different waters… A city, a country, where he found peace (and love!), the literal translation of the name "Ljubomir".
Awards and Recognitions
Bistro 100 Maneiras wins Best Bar in a Restaurant 2022 and João Sancheira, bar manager of 100 Maneiras' group, is named Best Bartender 2022, in the Lisbon Bar Show awards, in May 2023
In November 2022, Restaurant 100 Maneiras received the Michelin star, for the third consecutive year
In November 2022, Carnal Gastrobar was distinguished by the Michelin Guide as Bib Gourmand 2023
"Chef of the Year 2020" Award, by Revista de Vinhos
Restaurant 100 Maneiras wins its first Michelin star, in December 2020 (and wins it again the following year)
In December 2020, the Bicho do Mato 2017 wine, produced with Dirk Niepoort, in the Douro, is one of the "White Tops of the Range", obtaining the Highly Recommended seal by Revista de Vinhos
In September 2020, the book "Bistromania" is included in The Autumn Harvest List of Gourmand World Cookbook Awards
In 2020, Bicho do Mato beer, created by Ljubomir Stanisic in partnership with Cerveja Letra, was awarded a Silver medal at the Concours International de Lyon (CIL)
In November 2019, restaurant 100 Maneiras is listed on 50 Best Discovery, by The World's 50 Best
Bistro's Bar is Best Restaurant Bar at the Lisbon Bar Show 2019 Awards
100 Maneiras' website wins the Silver award for "Website" at M&P Creativity Awards 2019
100 Maneiras is Best Concept/Brand in the AHRESP 2018 Awards
Bistro 100 Maneiras is the only portuguese restaurant on Monocle Restaurant Awards 2018 top 3
100 Maneiras' website wins the W3 Gold Award for "Visual Appeal – Aesthetics for Websites" and the Silver Award for "Copy or Writing for Websites", in 2017, by the Academy of Interactive & Visual Arts
"One of the most creative chefs working in Portugal", em 2007, critic Rafael Santos
Ljubomir Stanisic is awarded the "Personality of the Year in Gastronomy" 2017, by Revista de Vinhos
Bistro's Bar wins the Coaster Award 2017 for Best Restaurant Bar in Portugal
Ljubomir wins the Oscar "Mais Chefe" 2017, by Mais Alentejo magazine
Bistro 100 Maneiras is number 1 at the Monocle Restaurant Awards 2017
Ljubomir wins the David Lopes Ramos Gastronomy Award 2016, Revista de Vinhos
Ljubomir Stanisic is one of the speakers in TEDx, Unversity of Porto, 2013
Bistro 100 Maneiras is featured on "No Reservations" Lisbon episode by Anthony Bourdain, 2012
Bistro 100 Maneiras is featured in the Top 20 Restaurant Guide Time Out Lisboa 2013
The book "Papa-Quilómetros" is awarded in the Gourmand World Cookbook Awards, in 2011, and by the International Academy of Gastronomy, in 2012
100 Maneiras Cascais is listed on Top 3 Wine Menus, 2008
Ljubomir Stanisic is described as "One of the most creative chefs working in Portugal", in 2007, by critic Rafael Santos
100 Maneiras Cascais is Best Contemporary Cuisine Restaurant 2007, at Veja magazine
Ljubomir Stanisic is awarded the Medal of Entrepreneurial Merit and Development of Culture and Tourism, 2007, by Cascais Chamber
100 Maneiras Cascais is listed at Top 10 Best Restaurants in Portugal 2005, on Revista Q
100 Maneiras Cascais is Restaurant of the Year 2005, Revista de Vinhos
Ljubomir Stanisic is Best chef 2005, Nectar Magazine